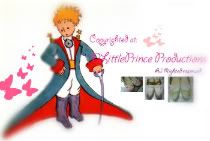 Friday, July 11, 2008
Enquiries(:
Hey guys!Firstly, I wanna thank everyone for the support u gave! I really appreciate tt!
I realised some people may have some qns bout the shoes so this post is to ans it all:D
What I use to paint my shoes?
I use acrylic to paint as i realised it is easier to control and it doesn't fade off easily:D Dun worry bout the fading cuz i wore my own designed shoes a zillion times and the colours are still rich and pretttyyyyy:D
Ps. Just be sure you dun keep washing it. Take a damp cloth and wipe when there's dirt on it. (:
Things to note for any customization:
Currently, i understand that i may not have that much designs on display thus not much for you guys to choose from. It is possible for you to request the designs you want and i'll try to fufil the requirements. You can also request stories you want on the shoes(eg. fairytales etc) I'll read the
SHORT
story/chapter and come up with a design on it based on my interpretation.(: Please be clear of what you want and dun give me vague response like
cute&pretty(tt's subjective).
Cartoons are okay or at least tell me what theme u like(:
Sneakers anyone?
Both guys and girls have requested that i do sneakers. Please understand that it is a little hard as sneakers are more expensive. However, i can do customization on sneakers if there are requests, depending on the response.(:
Projects currently:
Doing 2 pairs of sneakers(May have to wait to see designs)
1 The Little Prince 01(yay! 1st cust!)
1 Under the stars 01
A new maryjane design(up by 14/7/08)
Anyw, from now on, if you want me to inform you when there are new designs, please leave ur e-mails under comments of this post. I will update you guys regularly whenever i have new designs coming up!:D
& also, you can just leave your orders under the comments page of the design entry and i'll get back to you within 48 hours(: Be sure to leave your e-mail!:D
I say. 0 comments

Thursday, July 10, 2008

What is art?



Colours: Black and teal
Colours available: Blue, Red, Fluro Pink, Purple, Teal
Abstract piece
This is art(: Art is a subjective matter, whatever you think is nice may not be so to others. But believe in ur own judgement and u'll nvr be wrong(:
For request: You can request to change the words in front and also the colour combination.(: I suggest you go wif the strap for this design cuz it looks nicer:D
Size ready for immediate collection: size 39
Shoe Design: This is art 01
I am selling @
$18

I say. 0 comments

Saturday, July 05, 2008

Comments


Hey guys! Hoped u like those designs:D Anyw, i'll be coming up with bout2-3 more designs within the next 2 weeks or so. Please show me ur support! If u think the shoes are nice or u wanna make a comment about it, please state it at the tagboard so tt i can improve on it.



Pls pls pls feedback to me cuz i wanna wad u guys like/dun like((:




I say. 0 comments

Tuesday, July 01, 2008

The prince and the fox



"No," said the little prince. "I am looking for friends. What does that mean--'tame'?"
"It is an act too often neglected," said the fox. It means to establish ties."
"'To establish ties'?"
"Just that," said the fox. "To me, you are still nothing more than a little boy who is just like a hundred thousand other little boys. And I have no need of you. And you, on your part, have no need of me. To you, I am nothing more than a fox like a hundred thousand other foxes. But if you tame me, then we shall need each other. To me, you will be unique in all the world. To you, I shall be unique in all the world . . ."
"I am beginning to understand," said the little prince. "There is a flower . . . I think that she has tamed me . . ."
What i have painted on the shoes is the story of the prince and the fox from The Little Prince. The story of the fox, the prince and his rose which is waiting for him at his planet. This is part of The Little Prince series.
Written at the side of the shoes is 'Right here waiting for you' & 'Tame me and i'll be unique in this world' (:
It's like water colour effect, the front is exactly like
Soft and sweet colours used(:
Shoe Design: The little prince and the fox 01
I say. 0 comments

Under the stars



Colours: Black and white, alittle yellow.
Where 2 friends meet up under the stars(:
Request if you want the strap or not. One of my fave piece(:



Shoe Design: Under the stars 01


I am selling @ $19.



I say. 0 comments

Love Letter



I helped my friend design this for her friend's birthday present. It's like a love note to the person who is impt to you. The sides of the shoes are the messages to her.
You get to choose the
2 colours
of the monsters!:D So every shoe will be quite different. Please if you want the strap and is there any short messages you want on the shoes. Every pair of shoes will be different as i will draw different things on it depending on ur request.
Shoe Design: Love Letter 01
I'm selling @
$ 20

I say. 0 comments

Sunday, June 29, 2008

FAQs




Background about DLittlePrince Productions

(:

Why did you set up this blog shop?
I would like people to wear my designed shoes and i feel great satisfaction when people say my designs are nice.

Where do you get your ideas from?
From everything around me! I like to use the shoes like a story book to tell out the stories i have in my head. Perhaps most of my ideas come from fairy tales and the observations i make.(:

When did you start having the idea of starting this shop?
Hmmm... I wanted to do this long ago but dint have the courage to. Now tt i have a few designs, i would like to sell it on the web and see how well it would sell(:

Why is this shop called DLittlePrince?
HAHA... My fave story in this world would be the story

THE LITTLE PRINCE

. So, i've always wanted to paint the story of TheLittlePrince on sth which i always have with me(my shoes!) LOL so here i am spreading the love of The Little Prince!

What do you sell basically?
SHOES of course!:D
I sell 3 types of shoes basically.
1)

Flats

- You cannot customize the design on this but i can do small moderations for you. For example, if you would like a small msg on the shoe, i can do it for you(: FREE!
2)

Sneakers

- You can always request the customize design from the flats to be drawn on the sneakers but it will cost higher as sneakers are more expensive.
3)

Slip-ons

!- For slip-on, i will not customize designs for them unless requested. It is possible for me to draw portraits and realistic subjects on them. Of course, it will definitely be more expensive as it is really needs alot of focus and time. Just send me the photos you want on the shoes and if there is no further request, i'll just do black and white.(: The portraits will be at least 80% close to photograph so don't worry.

How can I trust you?
Errmmm this is hard. Anyw, if you dun trust me, you can always ask for meet-ups tho only at specific places. This is highly based on trust for both me and my customers.

How fast will I get my order?
If you send in ur request, it will be replied within

48hours

. After confirmation, please pay at least 50% of the cost and you will receive the shoes within

2 weeks

. I will msg you once the shoes are ready for collection.


I say. 0 comments